Have you mastered the hammer and saw? Have you just finished a renovation and need to get rid of the debris? We are ready to roll up our sleeves and get to work for you! Renovation debris hauling is as easy as pointing to what needs to go!
Our skilled professionals do all the lifting, loading and disposal of all your renovation debris and garbage for you! Every renovation is unique, so we provide everyone with a free, no-obligation quote once we see what you have. Afterwards, just sit back and relax.
De-Clutter Your Yard With us
Whatever the reason for the mess, our team can have your yard cleaned up in no time. Aside from being a nuisance, lawn clutter is a major eyesore that can affect your home's curb appeal.
Pristine landscapes are always better than ones that look like they haven't been maintained in years, not to mention there a whole lot safer. Downed tree limbs are a major hazard that need to be removed as quickly as possible, but not everyone has the means to transport th Luckily, we really do it!
Our crew has the resources needed to make short work of your messy yard, and the experience to back it up. We have been providing residential and commercial yard waste removal services for many years, and rely on safe, efficient, and eco-friendly methods to get the job done right.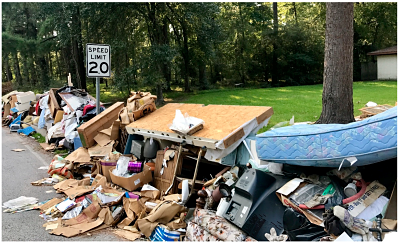 Since getting rid of yard waste via your normal garbage collection service is time-consuming, burdensome, and limited in scope (your garbage man won't take tree branches and other debris), the best course of action for most people is to hire a professional contractor to pick it up for them.is kind of debris.